There comes a moment in Fallout 3 where, standing staring around at the skeletal trees and blasted earth, you realise all the mounds of rock you've been climbing over were once buildings; offices, apartment blocks maybe even shops and schools. In that moment you can see in your mind what that alternate history version of Washington D.C. might have looked like. A blink and it's lost, everything is again sickly yellow and brown, blasted, broken, and irradiated.
I was wrong…
Fallout 3 is neither "teeming with life" nor "harmless", it's a true wasteland. It's strange, when I made my original comments I'd already spent several hours exploring the world but somehow it hadn't clicked exactly how terrible everything was. I could obviously see that nothing was particularly pleasant but still there were people scraping out a life and it felt like there was always something to see only a short walk away.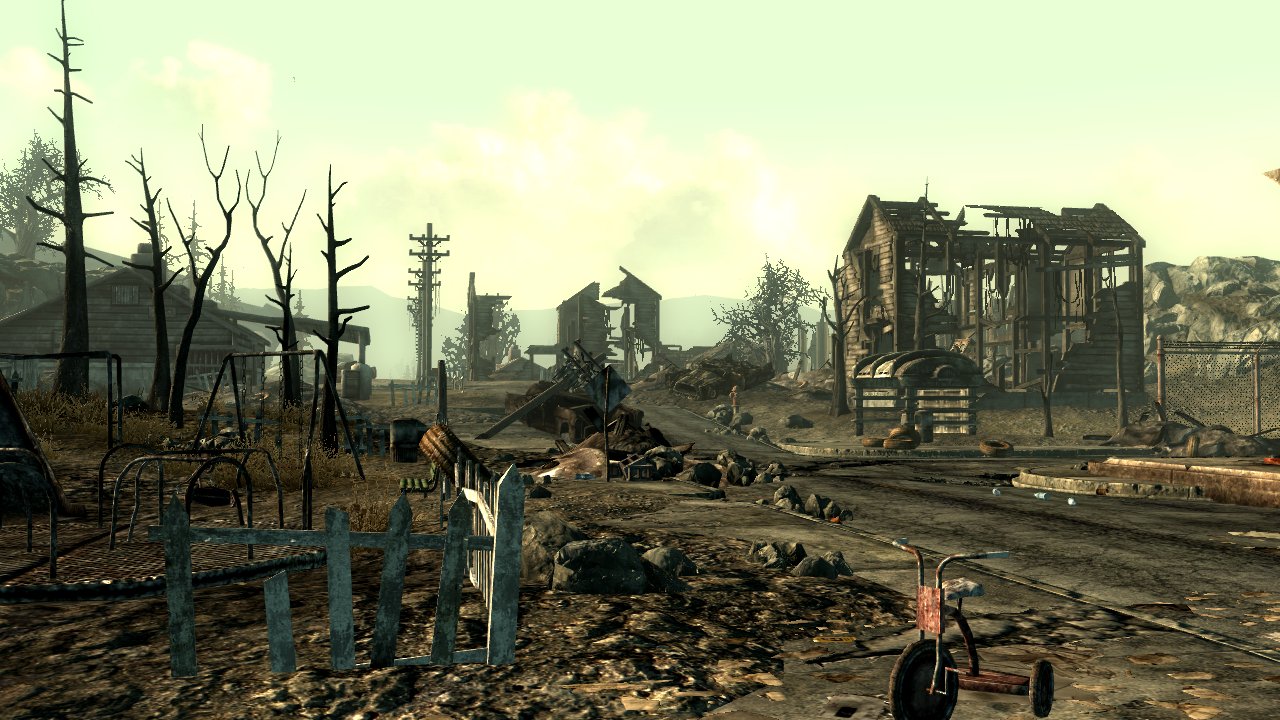 At some point the revelation hit me, and it was an entirely mundane action that provoked it. In order to get a better idea of where I was and where I was going I started to climb a hill. It was a simple thing really; I wanted to get to high ground so I could get a better view of the world. An entirely plausible natural thing to do when you're outside. Standing on the top of that crumbling masonry, looking out at the rising sun for a moment I realised what I was actually seeing. Those four houses clustered around that crossroad surrounded by low hills? That's meant to be a town? That's not a town,  it's barely a dozen houses…
… That's not a town, it's a fraction of a suburban neighbourhood. Those aren't low hills they're the remains of the rest of that neighbourhood. What freak chance spared those few houses I'll never know but as some of the last buildings left intact of course they drew what few survivors there were to them; humans crave other human contact. That's not a town, it was never meant to be a town, but right now it's the closest anybody here has got.
It was so easy upon entering the world of Fallout 3 to simply accept that yes this is a post apocalyptic wasteland. It's an intellectual acceptance, a theory, and as such easy to dismiss when presented with the grim reality. Within the first few hours the logical questions begin to surface. If this is a wasteland then why are so many of the buildings intact? Why are there so many people still alive? Why is there so much food around? All perfectly valid questions, on face value a surprising amount of civilization seems to have survived relatively intact. It's only when you stop and consider what the world must have looked like before the bombs fell that you realise how utterly wrong everything now is.
There seem to be a lot of buildings around but before the war there would have been hundreds, thousands. The people? There was likely a time when you'd not be able to move without bumping into dozens of  men, women and children. That food? Almost all of it is tinned or heavily processed so laden with salts and preservatives it was was probably barely edible when it was made let alone now.
Maybe this is what the experience of Fallout 3 is meant to be like? Having finally left Vault 101 at nineteen you have no idea what to expect, why wouldn't you just accept the world as it is. It's different from the world you know but you've seen little to tell you what the world was like before. You know in your head that there was some sort of war, but what does that really mean? Maybe things have always been this bad or something close to it?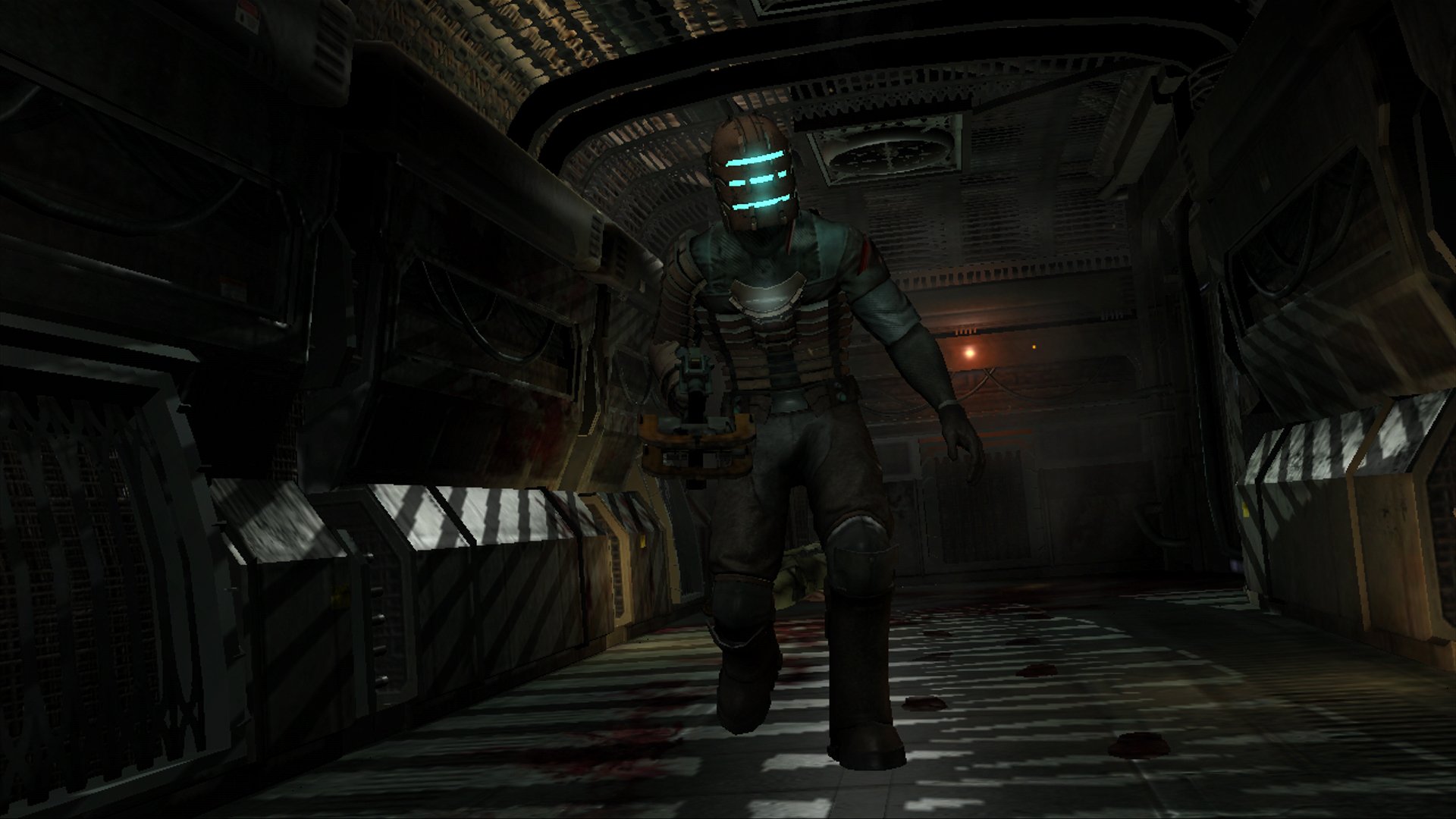 Rapture, the USG Ishimura, the Von Braun, we are so accustom to visiting worlds that have been destroyed, or are fated to be destroyed within minutes of our arrival that it's difficult to associate what they are now with what they might have been. I can't remember seeing what it was like on Sera prior to the start of Gears Of War, so how am I supposed to care about what it has become? There's barely enough time or opportunity in the game to tell the narrative it has, let alone convince me that the world is somehow worth fighting for.
Only by spending hours in its world could I reach the point of realisation that Fallout 3 provoked, where I understood the reality of the situation with my heart and not merely my head. I needed to explore that environment and its inhabitants thoroughly before I could grasp the full horror of their situation on anything more than an intellectual level.
The war torn African nation of Far Cry 2 is a brutal, hostile place, that much is obvious within minutes of your arrival. I just wonder if that depiction is very far removed from how a lot of people in the west see Africa? Are depictions of the tragic, dehumanising, effects of war that powerful when common perception is often"well that's what it's like there anyway"? I very much doubt that's an accurate portrayal of life in sub-saharan country, but I have little first hand knowledge, no foundation on which to base a comparison. I accept the Africa of Far Cry 2 as an inhospitable place but it rarely feels like something has been lost.
Being told how something is or used to be can only ever give you a concept, an idea. Unless and until you actually experience it that concept has little emotional weight  If you've never seen the world at its best, its most vibrant, how are you supposed to care about it at its most desolate and hostile?