Far Cry 2 is a desolate wasteland all but devoid of life. The few souls you do meet are all out for themselves. Most are content to shoot first and not bother with the questions. The few "buddies" you do acquire are little better, each is out to get what they can from you and the rest of the country and damn the consequences.
Fallout 3 is teeming with life, you can barely travel fifty yards without finding something of interest, a burnt out shopping complex overrun by cannibalistic bandits, a town of decrepit brickwork and corrugated iron. You're actions will cause you to make friends, and enemies, and there are plenty of people who simply don't care what you do.
Maybe it's just my own perceptions but those two descriptions feel the wrong way round. Far Cry 2 is set in a war torn African nation, Fallout 3 in the area around Washington D.C. two hundred years after a nuclear war. For the former to be all but empty and the latter to be packed with things to do and people to interact with doesn't sit entirely comfortably with me.
There's a map of the Capital Wastelands on the wall in my front room (Yeah I know, you don't have to tell me how big a geek I am, especially as it's sitting above a map of Liberty City), and looking at it I realised there is an incredible wealth of content in the game world. Though clearly a credit to the talent of Bethesda this cornucopia of places and people seems at odds with the fiction of the world. Two hundred years after an apocalyptic nuclear war and there are hundreds of people alive and computers that not only still function but which have somehow retained all their data? Compared to this the fictional Leboa-Sako and Bowa Seko regions of Far Cry 2 are positively spartan.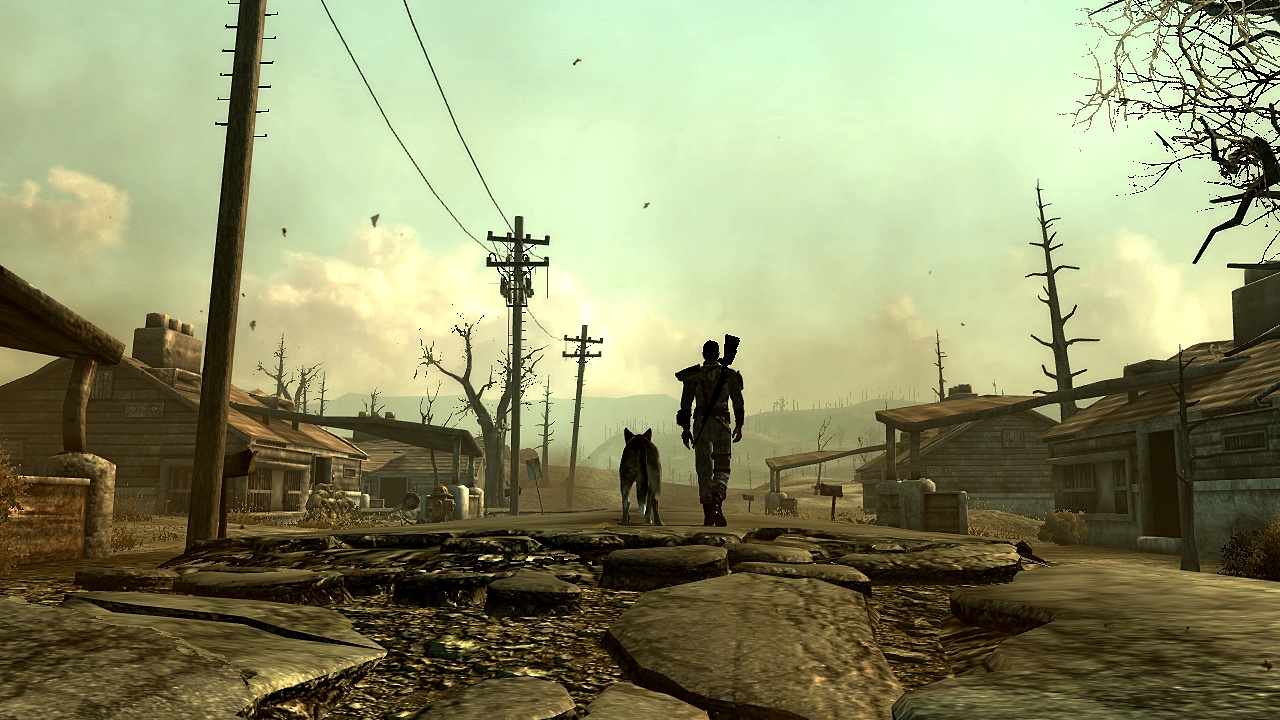 The world of Fallout 3 is designed to ensure that you are never lacking for something to do or somewhere to go. For all its carefully designed locations and quests it can feel like the world is only there because you are. People have their own routines but there's always a suspicion that if you weren't looking they'd stand around waiting for you. Of course in this respect Far Cry 2 is little different, of the dozens of mercenaries in country it seems you are the only one capable of actually getting anything done, to the extent that often people seem to be waiting solely for a chance to ask something of you.
I've talked before about how I've often been left to walk across what felt like miles of empty country in order to find a specific location in Far Cry 2. In these moments the sense of isolation, of being lost in a hostile environment is pronounced. Yet exploring the Capital Wastelands I never feel anything approaching that sensation. Yet it seems to be exactly the emotions such a post-apocalyptic wasteland should evoke. I've become engaged in the search for my father, I've saved people from a life of slavery or worse at the hands of Super Mutants and nearly died trying to swim across a radioactive river. But I have never once felt at risk, if things become too dangerous I might die but I'd appear again (Thanks to the Autosave) either at the entrance to the area I am in, or just outside the last town I visited. Usually though even that break in gameflow isn't necessary, provided I can get out of the immediate area I am free to fast-travel to safety in an instant.
The Capital Wasteland is designed to be entertaining but not threatening, everywhere you look there is something to find, something to do and never any real risk. The sickly yellow sky, pools of radioactive water and assorted mutants might look threatening but like the scares of an amusement park ghost train they are ultimately harmless. Bethesda seem to constantly hold back from making the post apocalyptic wastes more than a background. The sense of threat, of hostility of being dumped alone in an uncaring world is never one that is toyed with.
Far Cry 2's world is strangely lacking in content, with seemingly only three tiny "cities" in the entire country and a population that is either outright hostile or selfishly demanding of your help. Despite all this it succeeds in reinforcing the notion that this is a world that doesn't want you in it. You are not the centre of attention you are an annoyance to be eradicated; Africa doesn't care whether you live or die, though I have the feeling it might prefer the latter.
In the press and the gaming community at large Fallout 3 is praised for its wealth of content and Far Cry 2 berated for its overt hostility. Thematic consistency it seems is not that important. For all the talk of immersion and realism it seems gamers still want games that provide for them, that make them the centre of the action, the pivotal agent in the events of the world, the nexus around which everything is focused.
For all the talk of narrative and thematic maturity it seems games are still focused on fulfiling a power fantasy, the most base and narcissistic of all power fantasies, that of being the most important person in the world.