Games are about the exploration of space, both in the physical sense of exploring a virtual environment, and the abstract sense of exploring the possibility space provided by the game; the mechanics available and the dynamics that develop from them.
In both cases there are two distinct types of explorable territory: functional and logical. The first type are locations that provide some form of functionality and this is the more common type of territory, in fact without any functional territory there would be no game. The second type of territory is found less frequently, and in some games doesn't exist at all, these are locations that don't provide a specific function but that exists simply because of logical or contextual consistency; such space should exist so it does.
Call Of Duty 4: Modern Warfare is made up almost exclusively of functional territory. No matter where you go there is always something happening, some purpose to the location, a function to perform. You are funneled through functional territory with little scope for exploration beyond a limited number of rooms outside the critical path.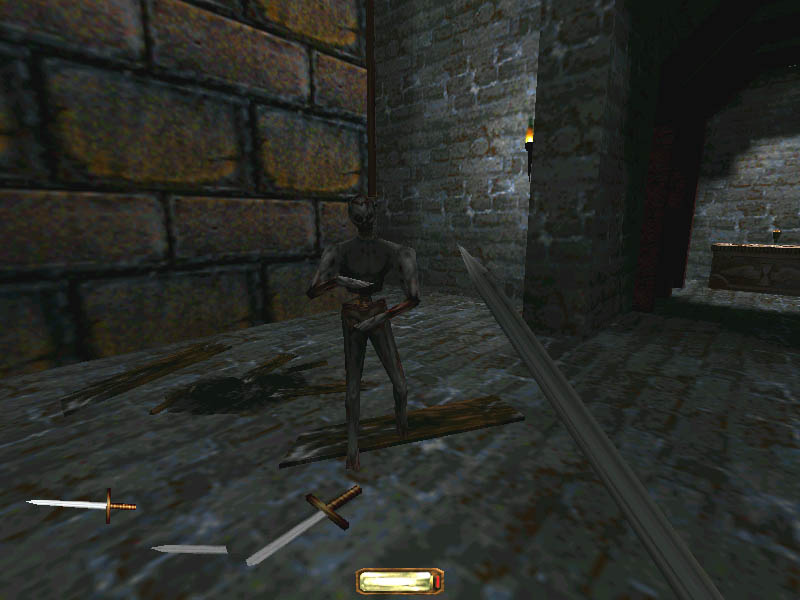 Thief: The Dark Project on the other hand is a title made up of large areas of logical territory. There are some locations that must be visited to complete the objectives required for each level, but these are the minority. Levels in The Dark Project are build to represent real – or at least plausible locations – they are castles with kitchens, bedrooms, and bathrooms. Some of these locations may contain loot to steal or non-player characters to interact with but few of which are critical to completing the game. Certain locations may even be entirely devoid of anything beyond the physical world geometry itself.
Logical territory in the physical game world is there to encourage exploration, it does not serve a purpose in terms of completing the game but can be used to provide narrative context. Consider the many mise-en-scène moments in BioShock they generally don't occur in areas you are required to visit, but in areas off the beaten track, areas whose existence nevertheless makes sense in the context of the world.
Functional and logical locations also exists in the abstract, in the territory that defines the possibility space of a game. Function territory in this sense are the mechanics that are required to actually play the game on a basic level. Logical territory is those mechanics that serve as support to the core systems; they exist for verisimilitude, or player self expression, or they are derived from logical interactions of functional mechanics; they are not vital to the completion of the game.
Quake III Arena is a game whose mechanics are full of functional territory. Movement controls are limited to those that have a direct impact on the game and each weapon has only one function. The exception to this being the ability to rocket or grenade jump (using the concussive force from an explosion to increase your natural jumping height). This is a logical mechanic, not in the sense that it actually makes any rational sense in terms of actual explosions, but in that it is a mechanic developed from the logical dynamic relationships of "rockets cause explosions", and "explosions impart movement forces upon player characters".
Again, The Dark Project is an example of a game that makes heavy use of logical territory in its possibility space. The mechanics of movement, and basic interaction with objects in the world all exist in the functional territory of the game. Without such basic skills it would be impossible to progress. Beyond this functional territory there are a range of possibilities that exist because they make sense in terms of the world fiction (the bow and the various elemental arrows) or because they are based off logical interactions between other mechanics in the world (water arrows used to clean blood stains off the floor). Exploration of this logical territory is not required for progression but doing so provides a variety of options that can be used to supplement the central mechanics.
The extent to which games make use of logical territory is an indication of the extent to which the games allow for explorative play. Play that exists not because it fulfills a purpose, rather because it is a logical extension of the existing mechanics.
Each game has a different distribution of functional and logical territory, sometimes this distribution can change over time. Locations that initially only existed to serve the narrative can later take on specific purposes in the game. This can be seen in Far Cry 2 where the numerous towns and buildings throughout the world can switch between logical and functional territory depending on the current mission. A fortified settlement can be a momentary distraction one moment and a vital mission location the next.
A focus on functional territory, in both the physical and abstract sense, leads to experiences that are often described as 'linear'; there is little room for exploration. What these games do offer is a much more focused experience. When each location, each mechanic, is included for a clear reason that territory can be tuned to provide the desired emotional and psychological response; the intense action of Modern Warfare or the skill focused purity of Quake III Arena.
A focus on logical territory leads to 'free-form', experimental, experiences where there is a greater scope for exploration and player expression. The more logical territory that exists the more redundancy is present, and thus the more likely two different players are to have a different exploratory experience. The downside is that such games can't reliably provide the form of emotional of psychological impact that experiences based on more prescribed functional territory can. The very fact players can 'take them or leave them' means designers have little control of the exact circumstances by which you encounter and explore logical territory.
Functional territory defines the landmarks on the explorable terrain, while logical territory is everything in between. Without the former there would be no game, without the latter what game there is would lack variety and context.