Warning: The following contains spoilers for the ending of Catherine.
Catherine, Atlus's 2011\12 visual novel puzzle game amalgamation is a game I've seen cited as "one of the most sexist" games made and another example of "the weird Japanese and their games about sex". I don't have much interest getting into the racism and ethnocentrism of that second comment, but the idea that Catherine is sexist is something I've struggled with. It was one of my favourite games of 2012 but the reasons for that are uncomfortable.
There's a bunch of fairly obvious reasons why Catherine can be considered sexist: objectification; heteronormative representations; and transphobia are just a few of the many justifiable criticisms… Put like that I wonder where I can really go with this argument, so I'll just stick with my personal experience.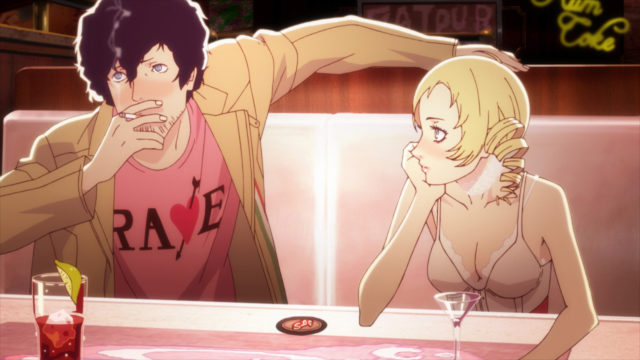 The basic conceit of the relationships portrayed in Catherine rely on played out tropes: the "shrew"; the "infantilised seductress"; and the "commitment-phobic man". As common as those tropes are in contemporary fiction it's rare – at least in my experience – for the underlying cultural factors behind the "commitment-phobic man" trope to be examined.
I'm in my early thirties, in a long-term relationship that I've no desire to see end; however, I have defined feelings about marriage and children, I am uninterested in either. All those are facts about my current life experience and Vincent is the only character I've inhabited in a video game that has represented any of those facets of my own psychology.
Vincent is uncertain, fearful and troubled by thoughts of "what might be" because he's a product of a society that holds up Catherine not as a person in her own right but an object for men to strive toward; she's the beautiful woman as status symbol, her "capture" a validation of a man's masculinity and success. It's a horrible, insidious cultural force and one men are suffocated by practically from birth. At the same time we are also bombarded with messages about the importance of being a husband and a father, again reinforced by the notions of such things as markers of masculinity and success.
Throughout ours teens and twenties these messages are all but impossible to ignore, unsurprising given that so much media created for men in that age range is generally horrible, being based around the concepts of "sex as a competition" and the importance of being an "alpha male".
By the time we reach our thirties we're expected to have adopted one of those frequently contradictory mindsets and have "settled down", either to a life of marriage and children, or one of "sexual conquests" and bachelorhood.
Life doesn't really work like that, by the time I reached my late twenties I saw all the bullshit cultural messaging for what it was, but with so few alternative representations to relate to I felt stuck. Vincent at the start of Catherine reminded me powerfully of what that felt like. While his friends all made their decisions and went down one of the two opposing paths of masculinity (though its notable that those two paths didn't bring happiness and success, instead the truth was messy and complicated as it is wont to be), he didn't know who he was or what he wanted.
As I played Catherine I strove to be honest at every juncture, I tried to be polite to Catherine without leading her on, and where I was granted the option I tried to be honest with Katherine, and yet still found myself justifying lying to her: "It's the best thing for her." "Nothing really happened so there's nothing to tell her." I was succumbing to all the cultural programming I had become so convinced I'd seen through.
In the end despite maintaining that I wasn't interested I opened the sexy photos from Catherine and complimented her on them, again justifying that behaviour was easy: "I'm just being polite". "I shouldn't shame her for being comfortable with her sexuality."
The truth was that, despite my protestations, I was and still am infected by the toxic notions of beautiful women as status symbols. I wanted to be successful, I wanted Catherine to like me because that made me feel good, but I didn't want to abandon Katherine either.
In the end the game revealed that Catherine was a succubus, and that given my actions I would end up with her in the underworld, an outcome I had been convinced I wouldn't get because I was just being a "nice guy". I felt cheated somewhat, Catherine hadn't been real and all my actions had been essentially for nothing; no matter what the game said I felt like I'd got the bad ending.
Of course Catherine wasn't really who she appeared to be, the notion of this perfect sexual fantasy object who will appear from nowhere and fill your life with excitement and mark you out as a successful masculine man is a myth. Sadly it's a myth that's insidious and omnipresent, it's practically everywhere you look in contemporary western culture. Being beautiful is a mark of success for women, "possessing" that beauty is a mark of success for men.
Catherine was a myth and secretly chasing that myth, while desperately telling myself otherwise, led nowhere. My final moments with Catherine were unsettling because in those moments I realised how strongly the cultural messages of masculinity still exist inside my own mind despite what I might tell myself.
Catherine is sexist, you could almost says it's sexism incarnate. It's an embodiment of the conflicting and contradictory cultural messages men are bombarded with, and it helped me realised how much sway they still hold over me.
Catherine is a mirror held up to my own prejudices and beliefs, because Vincent is exactly as sexist as I am, and that's a hard thing to admit.